ALEJANDRO JODOROWSKY COLLECTION Blu-Ray Box Set BRAND NEW (USA Compatible)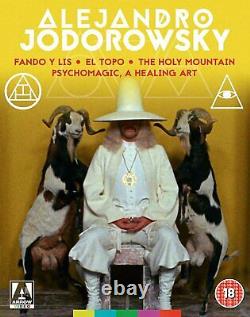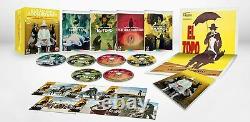 The Alejandro Jodorowsky Collection - 4 Movie Set. Alejandro Jodorowsky is one of world cinema s most fabled iconoclasts. Often venerated as the ultimate cult film director, the Chilean artist shot to prominence as a 1970s counter-cultural icon thanks to the masterful movies presented on this collection: Fando y Lis, El Topo and The Holy Mountain.
These extraordinary films, presented here alongside his stunning new film Psychomagic, bedazzled audiences with their unique aesthetic, contrasting violence and beauty; the sublime and the sacrilegious; the mystical and the macabre.. Jodorowsky's first feature, Fando y Lis, tells of young Fando and his paraplegic sweetheart Lis s journey through a series of surreal scenarios to find the enchanted city of Tar. An acid-western packed with vivid imagery, El Topo stars Jodorowsky as a master-gunfighter who duels with four sharp-shooting adversaries on his journey across a desert dreamscape. In The Holy Mountain, Jodorowsky plays The Alchemist, a guru who guides a troupe of pilgrims on a quest to ascend the Holy Mountain in search of spiritual enlightenment.
Jodorowsky's new cinematic experience, Psychomagic, A Healing Art, explores the directors radical therapeutic work. Influential, controversial and endlessly fascinating, Jodorowsky's surreal masterpieces are presented here in stunning new 4K restorations, accompanied with a wealth of illuminating extras, and new writing. New 4K restorations of Fando y Lis, El Topo and The Holy Mountain approved by Alejandro Jodorowsky.
Blu-ray premiere of Jodorowsky's new film Psychomagic. High Definition Blu-ray (1080p) presentations.
Original 1.0 mono audio and optional 5.1 DTS HD Master Audio. Newly translated English, Spanish and French subtitles. Limited edition 80-page hardbound book featuring new writing on the films by Virginie Sélavy, Michael Atkinson, Bilge Ebiri, Mark Pilkington and archival articles. Reversible sleeves featuring original and newly designed artwork by Matt Griffin.
Audio commentary by Alejandro Jodorowsky. Jodorowsky Remembers Fando y Lis, new interview. Newly filmed introduction with Richard Peña, Professor of Film Studies at Columbia University. La Cravate, Jodorowsky's compellingly surreal 1957 adaptation of Thomas Mann s The Transposed Heads. La Constellation Jodorowsky, Louis Mouchet s feature-length documentary featuring interviews with Jean Mobieus Giraud and Peter Gabriel.
Film presentation in both 1.85:1 and 1.33:1 original theatrical aspect ratios for the first time. Jodorowsky Remembers El Topo, new interview. New introduction with Richard Peña. A Conversation with The Son of El Topo, a newly filmed, extensive interview with Brontis Jodorowsky.
The Father of Midnight Movies, an archival interview filmed in 2007. El Topo Original Motion Picture Soundtrack CD. Jodorowsky Remembers The Holy Mountain, new interview. Pablo Leder: Jodorowsky's Right Hand Man, Jodorowsky's personal assistant remembers his time spent with the director.
The A to Z of The Holy Mountain, a new video essay by writer Ben Cobb. Deleted scenes with director s commentary. The Tarot, a short film in which Jodorowsky explains the secrets of the cards. The Holy Mountain Original Motion Picture Soundtrack CD. Blu-ray premiere of Jodorowsky's new film.
This item is an import from the United Kingdom (England). The cases are all in English. Does it Include DVDs or Digital Copies? This blu-ray is Region A and B compatible. This means it will play on any. NOTE: Even though the packaging says Region B only, this item has been successfully tested on Region A blu-ray players. What If I Have An Issue? We are here to help you with any issues that you have. Simply use eBays item return functionality to request a return.
If you change your mind and don't want the item, you may return it if it is UNOPENED only. Simply use eBays item return functionality and follow the instructions on the screen. The item "ALEJANDRO JODOROWSKY COLLECTION Blu-Ray Box Set BRAND NEW (USA Compatible)" is in sale since Wednesday, November 18, 2020. This item is in the category "Movies & TV\DVDs & Blu-ray Discs".
The seller is "valhallagroup" and is located in Flower Mound, Texas. This item can be shipped worldwide.
Format: Blu-ray
Language: English
Movie/TV Title: Alejandro Jodorowsky Collection
Region Code: Blu-ray: Region Free
Rating: R
Edition: Box Set
Genre: Drama